Blog
by Amanda Davey
Blog Post 19/09/2015 Launched!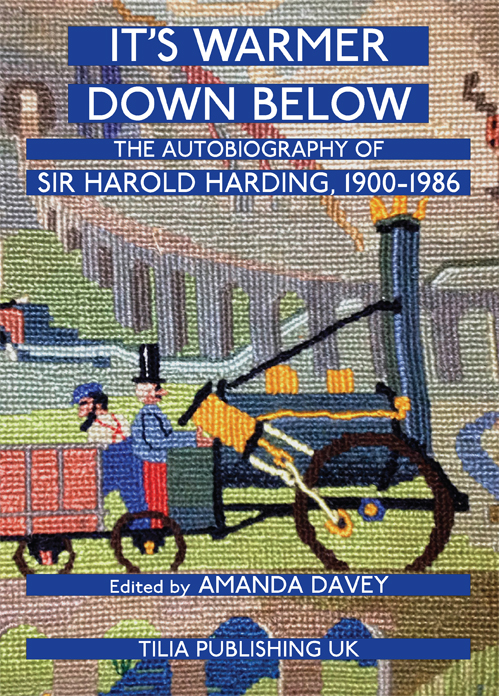 It's Warmer Down Below book cover
On Thursday, 17th September 2015, at the Institution of Civil Engineers (ICE), No 1 Great George Street in London the autobiography of Sir Harold Harding was launched in the stunning library with a mixture of good friends, relatives, colleagues and plentiful civil engineers. The event was very successful, with strong interest in (and sales of) the book that captures the characteristics of a warm and charismatic man who worked at the forefront of many initiatives in civil engineering and several key projects, including many tunnels under London, co-founding Soil Mechanics Ltd and being part of the introduction of geotechnical investigations to the UK. He was consultant to the Channel Tunnel Study Group in the 1950s through to the abortive start in 1974, continuing to lobby for a twin bored tunnel in his later years. He was also the technical expert on the Aberfan Tribunal following the catastrophic mine spoil slip in 1966 and initiated the investigations that led to many recommendations that are still relevant today.
Blog Post 29/09/2014 Trees in Our World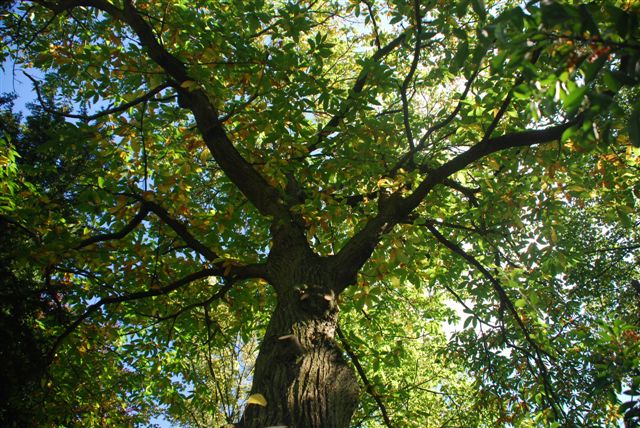 Chestnut tree in Leicester University Botanic Gardens
Almost every day, I have something to do with trees, which is a great joy. Many of my clients are arboricultural consultants or landscape architects with a tree specialism. They need graphics, photographs or research into the trees in the landscape, particularly if they are too pressed for time to do it themselves or not confident. Regularly this shows how these magnificent plants are viewed or treated by their owners/managers, the public or other consultants who could possibly have done things differently.
Read more...
Blog Post 19/08/2014 Falkland Flight Training – bird style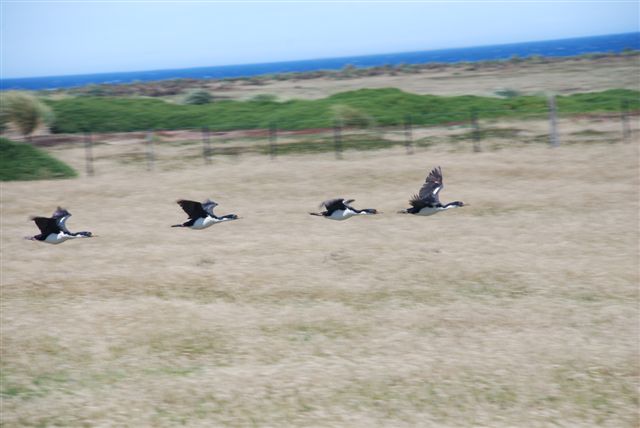 King Cormorants in flight
While travelling in the Falkland Islands a little while ago, we had the privilege of staying for three days in a cottage on the island of Bleaker to the southwest of East Falkland. The name came from it having been considered a 'bleaker' island than the one the finders had just visited, which could well be the case given the very sculpted vegetation that we could see from the air. We came down to land on a grass runway in the small red airplane that operates as a sort of inter-island bus. We had had to be weighed prior to entering so that the fuel levels could be calculated.
Read more...
_______________________________________________
Previously on Blogger subjects were:

Of Christmas and Kiwis- Looking at traditional elements of Christmas without tinsel, with frankincense
Screaming in public spaces… - The role of public art is different to the role of gallery art
Fertilising what?- A catch-up on the methane production in cows post
Oh! I didn't expect that!- Oddities round the corner
Not always built to last..…- While building to last is good, ephemeral design can be inspiring
Traffic wind-up schemes- Traffic calming should calm the traffic. This scheme does the opposite
Land of Harps and Puffin- A festival of light and glass in Reykjavik at the Harpa Building
Weather 1 – WIND- We knew it was windy when the cat flew past the window - The Great Storm of 1987
Tweet Tweet TWITTER- Allegories of birdsong and behaviour to learning how to play the game that is Twitter
Van Gogh growing outside National Gallery….- Magnificent use of a green wall to emulate a Van Gogh painting
Not all is what we think it is…. - A bramble isn't just a bramble, there are alot of different brambles
Now you see it now you don't.…- Hidden design features that don't stick out, plus retracting bollards
LIGHT CHEER- Walk along London's South Bank and lighting dark winter days
Rabbiting Year- Rabbits are not just cute and fluffy they eat plants!
Ivy – Helix in more than name- Ivy is a varied plant and not all bad
Ball Bearings at Stonehenge- Personal observations on the idea Stonehenge blue stones were moved using granite ballss
Covering Rock - Kaff Fassett ceramic murals using old pottery from Highland Stoneware
Truly pragmatic bollards.…- A stack of ex-bollards in Curacao
Daffydowndilly, Lent Lily, the harbinger of spring…- Historic assessment of daffodils in our culture and landscape
Appreciating Lichens…- A look at lichens from the eyes of a landscape architect
What's In a Name?- Looking at the introduction, naming and use of Pieris formosa var. forestii
Physical Resonances- Bouncing bridges - an allegory for economics
Garlic Futures.…- Looking at the ideas about injecting Allicin into Horse Chestnut as a way to combat disease
Ways of Seeing.… - Highlighting items that people often take for granted that landscape architects specify or design
Copenhagen Foundations- A celebration of the Gefjon Fountain and Copenhagen
Flatulence and Biodiversity- A discussion of methane production in cows and their diet related to wildflower meadows
Landscape Architecture - The introductory post, explaining the reasons behind the choice of the name Pragmatic Bollards


Web Design by Tilia Services © Tilia Services 8-12-2015